Description
AMD B550 Gaming Motherboard with Pure Digital VRM Solution, GIGABYTE Gaming LAN with Bandwidth Management, PCIe 4.0/3.0 x4 M.2, RGB FUSION 2.0, Smart Fan 5, Q-Flash Plus, Anti-Sulfur Resistors Design
Supports AMD 3rd Gen Ryzen™ and 3rd Gen Ryzen™ with Radeon™ Graphics Processors
Dual Channel ECC/ Non-ECC Unbuffered DDR4, 2 DIMMs
5+3 Phases Pure Digital VRM Solution with Low RDS(on) MOSFETs
Ultra Durable™ PCIe 4.0 Ready x16 Slot
Ultra-Fast NVMe PCIe 4.0/3.0 M.2 Connector
GIGABYTE Exclusive 8118 Gaming LAN with Bandwidth Management
HDMI, DVI-D, D-sub Ports for Multiple Display
High Quality Audio Capacitors and Audio Noise Guard with LED Trace Path Lighting
RGB FUSION 2.0 Supports Addressable LED & RGB LED Strips
Smart Fan 5 Features Multiple Temperature Sensors , Hybrid Fan Headers with FAN STOP
Q-Flash Plus Update BIOS without Installing the CPU, Memory and Graphics Card
Anti-Sulfur Resistors Design
SPEC OVERVIEW
PERFORMANCE
COOLING
LIGHTING
ULTRA DURABLE
GIGABYTE EXCELLENCE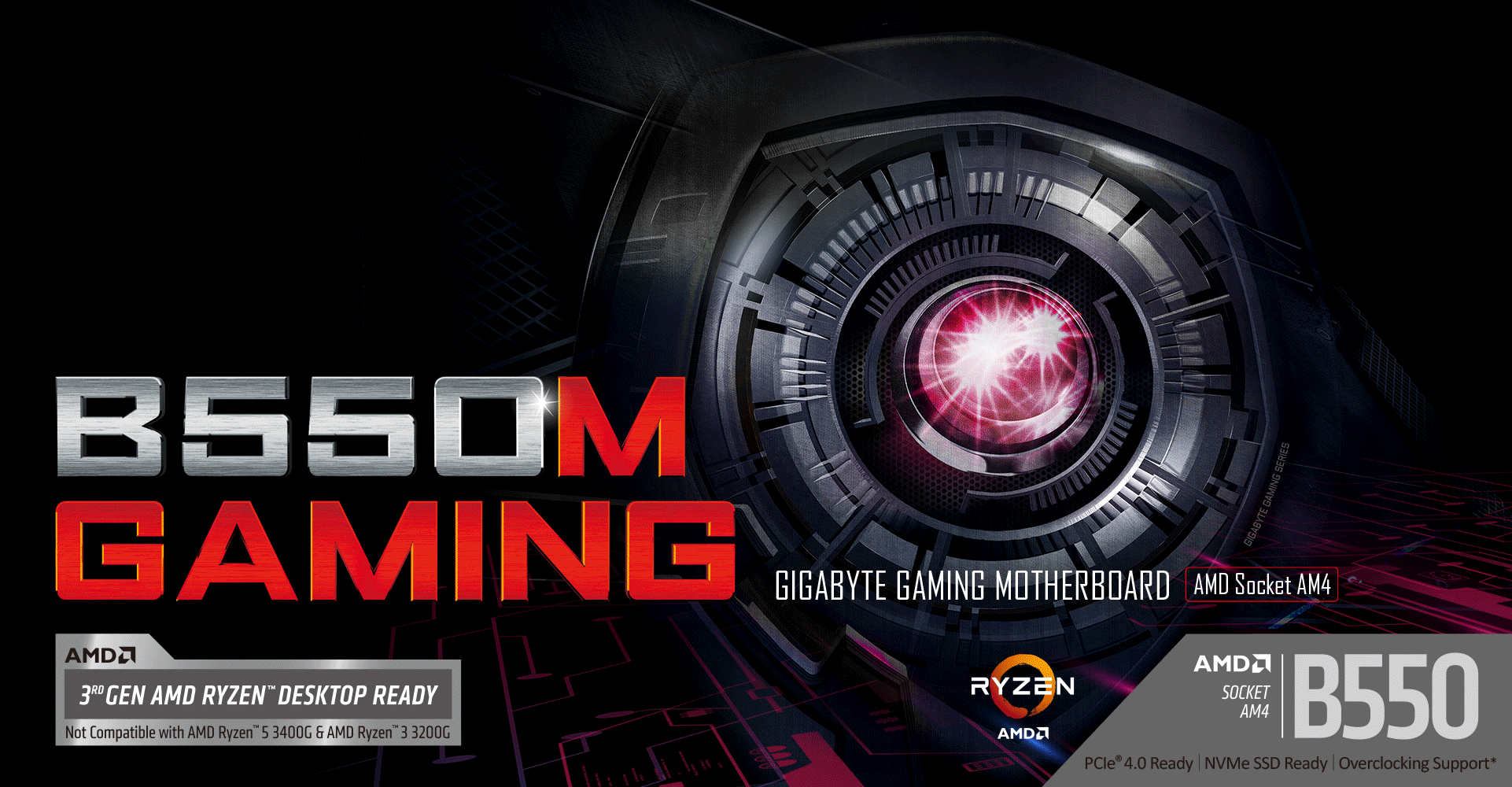 Solid Pin Power Connector
GIGABYTE Gaming LAN with Bandwidth Management
M.2 Connector
• PCIe 4.0 M.2 Connector
• NVMe PCIe 4.0/3.0 x4 and SATA Mode (from CPU)
High-End Audio Capacitors
RGB FUSION 2.0
• Addressable LED Header*1
• RGB LED Header*1
5+3 Phases Pure Digital VRM Solution with Low RDS(on) MOSFETs
Supports 3rd Gen AMD Ryzen™ Processors
Advanced Thermal Design with Enlarged Heatsink
Dual Channel DDR4, 2 DIMMs
Ultra Durable PCIe Armor
• PCIe 4.0 Slot
• Running 1 x16
Smart Fan 5 + FAN STOP
• 3 Fan Connectors
• 5 Temperature Sensors
AMD StoreMI Technology
GIGABYTE B550 motherboards maximize your PC's potential with AMD StoreMI technology. StoreMI accelerates traditional storage devices to reduce boot times and enhance the overall user experience. This easy-to-use utility combines the speed of SSDs with the high capacity of HDDs into a single drive, enhances the read/write speeds of the device to match that of SSDs, bolsters data performance for incredible value, and transforms the everyday PC to a performance driven system.
The benefits of AMD StoreMI:
• Making the PC experience fast, smooth and easy
• Optimizing computer responsiveness from system boot to application launch
• Offering SSD performance with HDD capacity at an affordable cost
• Quickly accessing key files by automatically learning users' computing behaviors
Detail information please refer AMD official website: https://www.amd.com/en/technologies/store-mi
PERFORMANCE
5+3 Phases Pure Digital VRM Solution with Low RDS(on) MOSFETs
B550 gaming series motherboards use a 5+3 phases pure digital PWM + Low RDS(on) MOSFETs design to support the 3rd Gen AMD Ryzen™ CPUs by offering incredible precision in delivering power to the motherboard's most power-hungry and energy-sensitive components as well as delivering enhanced system performance and ultimate hardware scalability.
Benefits of Low RDS(on) MOSFETs
‧ Optimized gate charge to minimize switching losses.
‧ Lower temperature, smaller size, better thermal characteristics.
PCIe 4.0* Hardware Design
PCIe 4.0 Slot
PCIe 4.0 x16 slot with faster bandwidth and lower impedance.
M.2 PCIe 4.0 Slot
M.2 PCIe 4.0 x4 slot with Lower impedance.
* Product uses PCIe 4.0 grade material, actual support varies by hardware configuration.
NVMe PCIe 4.0*/3.0 M.2 Connector
With NVMe PCIe 4.0*/3.0 x4 M.2 connector onboard, GIGABYTE Motherboards bring users to experience NVMe mode or SATA mode connectivity with delivering up to 64 Gb/s data transfer speed.
*Actual support may vary by CPU.
Exclusive Realtek 8118 Gaming LAN
High Speed Gigabit LAN with Automatic Bandwidth Allocation
Realtek 8118 LAN is a high performance and friendly network chip for gaming players with automatic bandwidth allocation to ensure the highest network priority of the game or application. It can provide users the most comprehensive features and the fastest and smoothest Internet experience.
Program On Top Gets Highest Priority
Real-Time Network Monitoring
The Industry's Leading LAN Static-Electricity & Surge Protection
GIGABYTE motherboards use ICs with up to 3 times the ESD resistance levels compared to traditional ICs. This helps to better protect the motherboard and its components against potential damage caused by static electricity. GIGABYTE motherboards also feature special anti-surge ICs that protect your motherboard, and your PC from any surge in power delivery that may occur, helping to ensure that your PC is equipped to deal with any potentially irregular and inconsistent power delivery.
HDMI 2.1 for 4K / 60P / 21:9 / HDCP 2.3 Support
HDMI 2.1, which is backwards compatible with HDMI 2.0/ 1.4 and offering 48 Gb/s of bandwidth – twice times more than previous generation. This unlocks the potential for users to transfer multiple video streams, as well as a native cinematic 21:9 ratio (which most movies are shot in), Full HDR and HDCP 2.3 support, to offer the best visual experience for viewers.
Note: Only New Gen AMD Ryzen™ with Radeon™ Graphics processors support displaying function.
High-End Audio Capacitors
GIGABYTE motherboards use high-end audio capacitors. These high quality capacitors help deliver high resolution and high fidelity audio to provide the most realistic sound effects for gamers.
Audio Noise Guard
GIGABYTE motherboards feature an audio noise guard that essentially separates the board's sensitive analog audio components from potential noise pollution at the PCB level.
COOLING
Smart Fan 5
With Smart Fan 5 users can ensure that their gaming PC can maintain its performance while staying cool. Smart Fan 5 allows users to interchange their fan headers to reflect different thermal sensors at different locations on the motherboard. Not only that, with Smart Fan 5 more hybrid fan headers that support both PWM and Voltage mode fans have been introduced to make the motherboard more liquid cooling friendly.
Fan Connectors
Internal Temperature Sensors
Different models have different number of fan pin headers and temperature sensors. Smart Fan 5 function may vary by model.
Temperature Sensors
Hybrid Fan Headers
■ 5 Temperature Sensors
■ 3 Fan Pin Headers
■ All Fan Pin Headers Upgraded to Hybrid Fan Headers
■ Interoperable Fans and Sensors
■ Intuitive UI for Fan Control
FAN STOP
Hybrid FAN Header
Smart Fan 5 Software
Achieve fan silence. With Fan Stop, map any fan to stop completely when temperatures drop below a specified threshold. Which fan stops, based on readings from which sensor, and at what temperature—all of it can be customized to your liking.
Intelligent Fan Control Design
LIGHTING
RGB FUSION 2.0
With B550 Motherboards, RGB Fusion 2.0 is even better with Addressable LEDs. RGB Fusion 2.0 offers users the option to control onboard RGB and external RGB / Addressable LED light strips* for their PC build. Already feature filled with colors and patterns, RGB Fusion 2.0 are now upgraded to improve the Addressable LED support. With external Addressable LED strips, where each LED is digitally addressable that users can experience even more patterns, styles, and illuminations.
With B550 Motherboards support the external 5V Addressable LED lighting strips and up to 300 LED lights. RGB Fusion 2.0 with Addressable LEDs comes with new patterns and various speed settings with more to come.
* The external RGB LED strips and Addressable LED strips are not included with Motherboard purchase.
RGB Fusion 2.0 Software
RGB Fusion APP
With an integrated intuitive user interface, the RGB Fusion 2.0 provides you a better solution for customizing the lighting effects across all supported devices. From motherboards, graphics cards to the peripheral products, you can personalize your gaming rig with your own style and show off your build by sharing the profiles. In addition, the new gaming mode makes the lighting effects interactive with selected games to bring you the most immersive gaming experience.
Sync with one click
Individual control as you wish
ULTRA DURABLE
Q-Flash Plus
Update the BIOS easily without installing the CPU, memory and graphics card.
With GIGABYTE Q-Flash Plus, you don't need to install the CPU, memory and graphics card nor enter the BIOS menu to flash the BIOS. Just download and save a new BIOS file (rename to gigabyte.bin) on the USB flash drive, then press the dedicated Q-Flash Plus button and you're good to go!
GIGABYTE Patented Double Locking Bracket
Solid Pin Power Connectors
B550 motherboards feature solid plated ATX 12V 8pin power connectors for offering stable power supply while CPU overloading.
Solid Pin Power connector advantages
Larger contact area for electricity
More metal quantity to sustain higher power and generated heat
Ultra durable and longer lifespan
Ultra Durable™ PCIe Armor
Industry Leading Ultra Durable™ PCIe Armor
The innovative one piece stainless steel shielding design from GIGABYTE reinforces the PCIe connectors to provide the extra strength required to support heavy graphics cards.
START SULFURIZATION PROTECTION
Sulfur compounds in the air can penetrate tiny onboard resistors creating chemical change and causing these resistors to open or short. If either of these occurs the motherboard will fail to function. By equipping resistors with an Anti-Sulfur Design GIGABYTE gives Ultra Durable Motherboards a whole new meaning.
GIGABYTE EXCELLENCE
GIGABYTE BIOS & Applications
BIOS
APP CENTER
EasyTune
System Information Viewer
Refreshed BIOS
The BIOS is essential for users during initial setup to allow for the most optimal settings. With a new GUI and easier to use functionalities, GIGABYTE has been able to reinvent the BIOS to give users a better experience while setting up their new system.
* Photos are for reference only. Product features may vary by model.