Description
AMD B550 AORUS Motherboard with True 12+2 Phases Digital VRM, Enlarged Surface Heatsinks, PCIe 4.0 x16 Slot, Dual PCIe 4.0/3.0 x4 M.2 with Dual Thermal Guards, Intel® WiFi 6 802.11ax, 2.5GbE LAN, RGB FUSION 2.0, Q-Flash Plus
Supports AMD 3rd Gen Ryzen™ and 3rd Gen Ryzen™ with Radeon™ Graphics Processors
Dual Channel ECC/ Non-ECC Unbuffered DDR4, 4 DIMMs
True 12+2 Phases Digital VRM Solution with 50A DrMOS
Advanced Thermal Design with Enlarged Surface Heatsinks
Ultra Durable™ PCIe 4.0 x16 Slot
Dual Ultra-Fast NVMe PCIe 4.0/3.0 x4 M.2 with Dual Thermal Guards
Onboard Intel® WiFi 6 802.11ax 2T2R & BT5 with AORUS Antenna
AMP-UP Audio with ALC1200 and WIMA Capacitors
Blazing Fast 2.5GbE LAN with Bandwidth Management
Rear DisplayPort & HDMI Support
RGB FUSION 2.0 Supports Addressable LED & RGB LED Strips
Smart Fan 5 Features Multiple Temperature Sensors, Hybrid Fan Headers with FAN STOP
Q-Flash Plus Update BIOS without Installing the CPU, Memory and Graphics Card
Pre-installed IO Shield for Easy and Quick Installation
ULTIMATE POWER DESIGN
UNPARALLELED PERFORMANCE
ADVANCED THERMAL SOLUTION
NEXT GENERATION CONNECTIVITY
HI-FI AUDIO SYSTEM
DEFINITIVE AESTHETICS
ULTRA DURABLE
GIGABYTE BIOS & APP CENTER
DESIGN CONCEPT
DOMINANT IN DARKNESS
In the dark, starless night, the falcon strikes fear into the heart of its prey. Even with minimal visibility, the falcon pinpoints its prey and patiently anticipates the perfect moment to swoop in for the kill. The falcon with its laser sharp gaze dominates the darkness of night in the same manner that AORUS Core Lighting illuminates the vast AORUS ecosystem.
Intel® WiFi 6 802.11ax & BT5
Advanced Thermal Design
Enlarged Surface Heatsinks
5 W/mK Thermal Conductivity Pad
Pre-installed I/O Shield
Audio Solutions
ALC1200 Audio
Nichicon Fine Gold Audio Capacitors
Audiophile Grade WIMA Capacitors
RGB FUSION 2.0
Addressable LED Header*2
RGB LED Header*3
True 12+2 Phases Digital VRM with DrMOS
50A DrMOS
Premium Choke and Capacitor
2X Copper PCB
Dual Channel DDR4, 4 DIMMs
Supports 3rd Gen AMD Ryzen™ Processors
Solid Pin Power Connectors
24 Pin ATX Power Connector
8 Pin CPU Power Connector
Dual M.2 Connectors
1. 22110 M.2 with Thermal Guard
PCIe 4.0 M.2 Connector
NVMe PCIe 4.0/3.0 x4 and SATA Mode (from CPU)
2. 22110 M.2 with Thermal Guard
NVMe PCIe 3.0 x4 and SATA Mode (from Chipset)
Ultra Durable PCIe Armor
PCIe 4.0 Slot
Running 1 x16
Smart Fan 5 + FAN STOP
5* Fan / Water Pump Connectors
6* Temperature Sensors
AMD StoreMI Technology
GIGABYTE B550 motherboards maximize your PC's potential with AMD StoreMI technology. StoreMI accelerates traditional storage devices to reduce boot times and enhance the overall user experience. This easy-to-use utility combines the speed of SSDs with the high capacity of HDDs into a single drive, enhances the read/write speeds of the device to match that of SSDs, bolsters data performance for incredible value, and transforms the everyday PC to a performance driven system.
The benefits of AMD StoreMI:
• Making the PC experience fast, smooth and easy
• Optimizing computer responsiveness from system boot to application launch
• Offering SSD performance with HDD capacity at an affordable cost
• Quickly accessing key files by automatically learning users' computing behaviors
ULTIMATE POWER DESIGN
To fully support the latest 3rd Gen AMD Ryzen™ processors, B550 AORUS motherboards equip with the ultimate power solution which is true direct, digital and multiple phases. After countless experiments and testing, GIGABYTE presents the unbeatable B550 AORUS motherboards for enthusiast. No Compromise and never stop to achieve higher.
14 Phases
Digital Power Design
Digital PWM
Driver MOSFET
All-Solid Capacitor
CPU Power Connector
True 12+2 Phases Digital Power Design
Digital PWM Controller delivers appropriate voltage to the CPU
True 12+2 Phases DrMOS with PWM Doublers design to deliver stable power to the CPU. With capability to handle up to 700 Amps current in a total
All-solid capacitors to improve Transient response and minimize oscillation
24pin+8pin Solid Pin CPU Power Connectors
B550 AORUS ELITE AX motherboard uses an True 12+2 phases digital power design which includes PWM controller, doublers and DrMOS. These 100% digital controller offer incredible precision in delivering power to the motherboard's most power-hungry and energy-sensitive components, allowing enthusiasts to get the absolute maximum performance from 3rd Gen AMD Ryzen™ processors.
UNPARALLELED PERFORMANCE
GIGABYTE realize that customer won't stop chasing a better computing performance. We take care of it and implement on products. Protective and optimized memory trace enhance the performance. Faster read and write are needed to save time and improve efficiency. We offer plenty of M.2 storage with thermal guards to ensure unthrottled read and write. In advance, adopting PCIe 4.0 ready components get the B550 motherboards easier to upgrade.
Memory Layout – Daisy Chain Design
With the optimized daisy-chain routing, the B550 motherboard provides a proven speed of DDR4-4000MHz and beyond with high density memory modules*. Optimized daisy-chained routing eliminates the stub effect, pushes the one DIMM per channel in dual channel interleaving mode to hit higher memory frequencies, providing professional gamers a denser and faster system memory experience.
* Performance may vary in circumstances. Please refer to the QVL list for detail support information.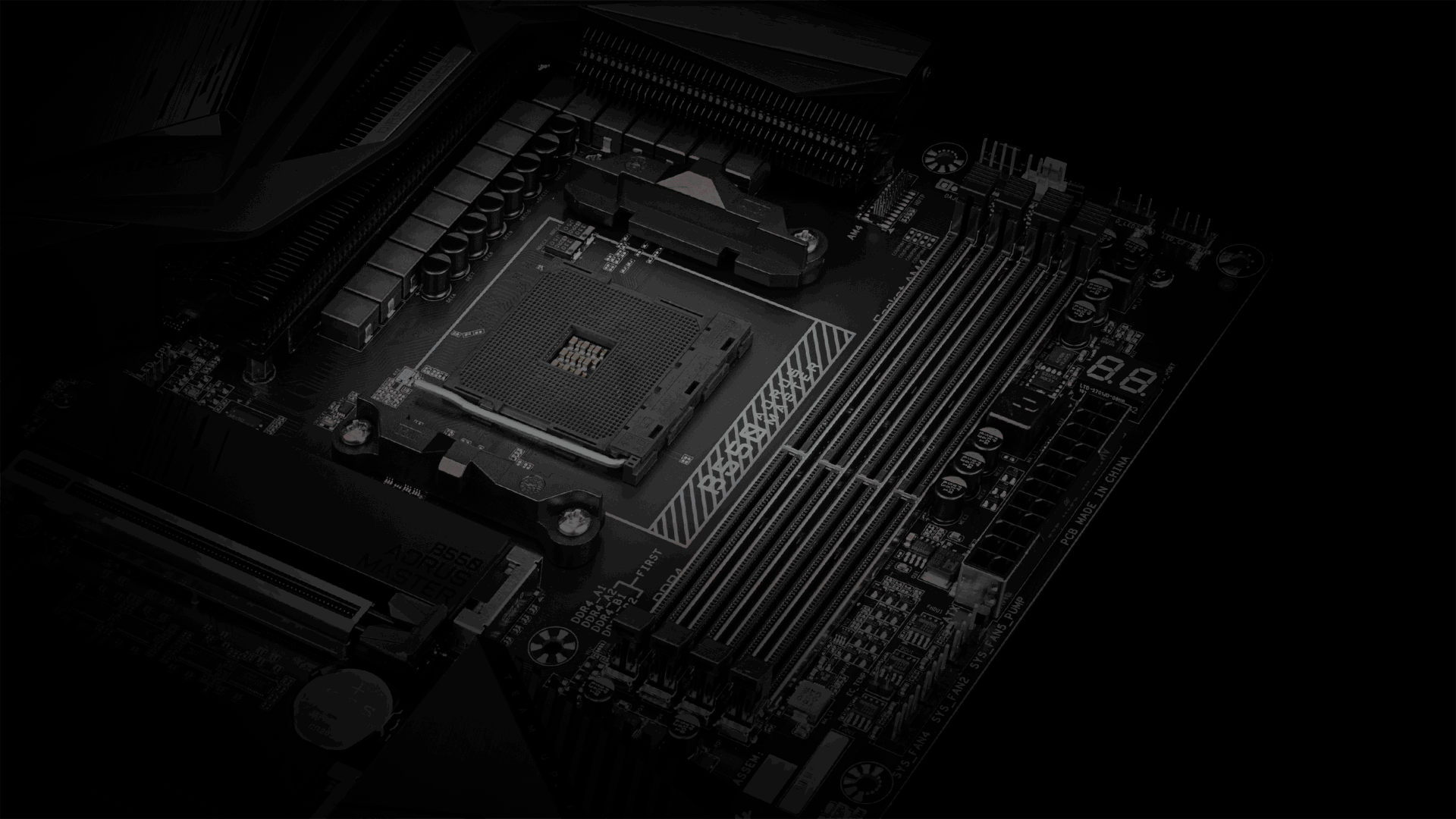 ADVANCED THERMAL SOLUTION
Unthrottled performance is guaranteed by the advanced thermal solution which including Enlarged Heatsinks, High Quality Thermal Conductivity Pads and Thermal Guards. B550 motherboards are cool on MOSFETs and M.2 SSDs even on full loading. It provides lower temperatures for enthusiasts, overclockers and professional gamers.
Enlarged Surface Heatsinks
5 W/mK Thermal Conductivity Pad
NEXT GENERATION CONNECTIVITY
A high-end product needs to be future-proof so your system stays up-to-date with the latest technology. B550 AORUS motherboards provide all next generation network, storage, and WIFI connectivity to keep you up to speed.
2.5GbE LAN Onboard
2X Faster than ever
Adoption of 2.5G LAN provide up to 2.5 GbE network connectivity, with at least two times faster transfer speeds as compared to general 1GbE networking. It's perfectly suit for gamers and streamer with ultimate and smooth online experience. It also backward compatible with Multi-Gig (10/100/1000/2500Mbps)of RJ-45 ethernet.
HI-FI AUDIO SYSTEM
For enthusiasts, sound quality is just as essential to the gaming experience. B550 motherboards are equipped with high quality audio components such as Hi-Fi grade WIMA FKP2 capacitors and Nichicon Fine Gold capacitors to provide a superb audio experience. The exclusive AORUS AMP-UP Audio technology makes for the ideal onboard sound solution for the most demanding audiophiles.
High-End WIMA & Audio Capacitors
The AORUS motherboards boast a combination of Hi-Fi grade WIMA FKP2 capacitors and high-end audio capacitors. While the high-end audio capacitors are suited for high-grade audio equipment, using state of the art technology to provide rich sound in the bass and clearer high frequencies, the WIMA FKP2 capacitors are being used widely in premium grade Hi-Fi systems. The addition of this to the exclusive AOURS AMP-UP Audio technology makes for the ideal onboard sound solution for the most demanding audiophiles.
Audio Noise Guard
AORUS motherboards feature an audio noise guard that essentially separates the board's sensitive analog audio components from potential noise pollution at the PCB level. LED trace path lighting Illuminates to show the separation of the PCB layers.
DEFINITIVE AESTHETICS
B550 motherboards feature RGB FUSION 2.0 and offer the option to control onboard, external light strips, and/or AORUS devices with RGB/ Addressable RGB LEDs to make your PC unique and stylish.
Multi-Zone Light Show Design
Now offering more LED customizations than ever, users can truly adapt their PC to represent their lifestyle. With full RGB support and a redesigned RGB Fusion 2.0 application, the user has complete control over the LEDs which surround the motherboard.

Note: Lighting effects depicted are for demonstration purposes only. Actual lighting effects may vary by model.
ULTRA DURABLE
GIGABYTE is reputable for its product durability and high standard of manufactured process. Needless to say, we use the best, high quality components on B550 motherboards and reinforce each part of components to be solid and durable.
Ultra Durable™ PCIe Armor
Industry Leading Ultra Durable™ PCIe Armor
The innovative one piece stainless steel shielding design from GIGABYTE reinforces the PCIe connectors to provide the extra strength required to support heavy graphics cards.
GIGABYTE BIOS & APP CENTER
Good software goes hand in hand with perfect hardware. B550 motherboards bundled several useful and intuitive software to help users to control every aspect of motherboard.
System Information Viewer
BIOS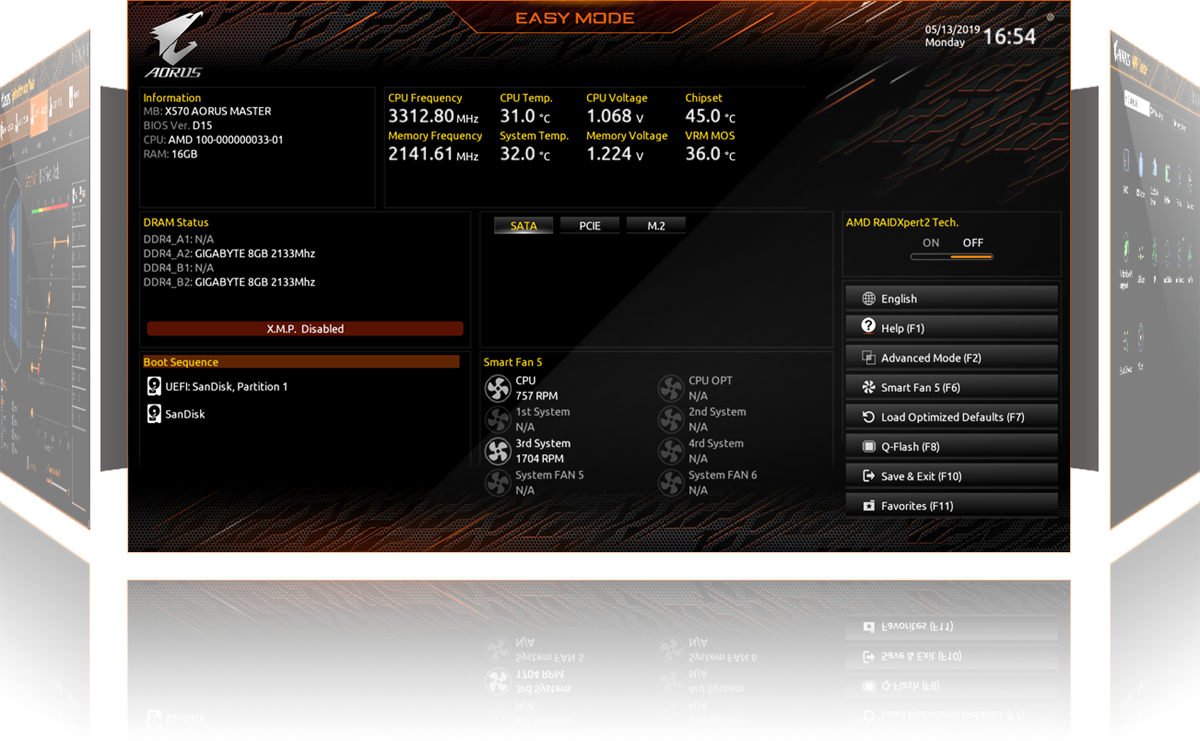 New User Interface
All new EASY MODE shows important hardware information in one page including CPU clock, Memory, Storage, Fan.
My Favorites
Add constantly used items into the favorite menu for quick access.
Storage Information
Show all kinds of storage information including SATA, PCIE and M.2 interface.
Changelog
List all changes before saving and exiting bios. Quickly review overall settings modification.
Intuitive Load Line Curve
Clearly show each loadline calibration setting in an intuitive curve graph.

XSplit Gamecaster + Broadcaster: Cast Your Game Anytime, Anywhere